Rubber Washing Machine Feet - Prevent Vibration Efficiently
Does the sound of the washing machine ring in your ears? Or dirt has accumulated under the refrigerator! ! Can't clean the floor properly? Then this product is for you, look at the solution!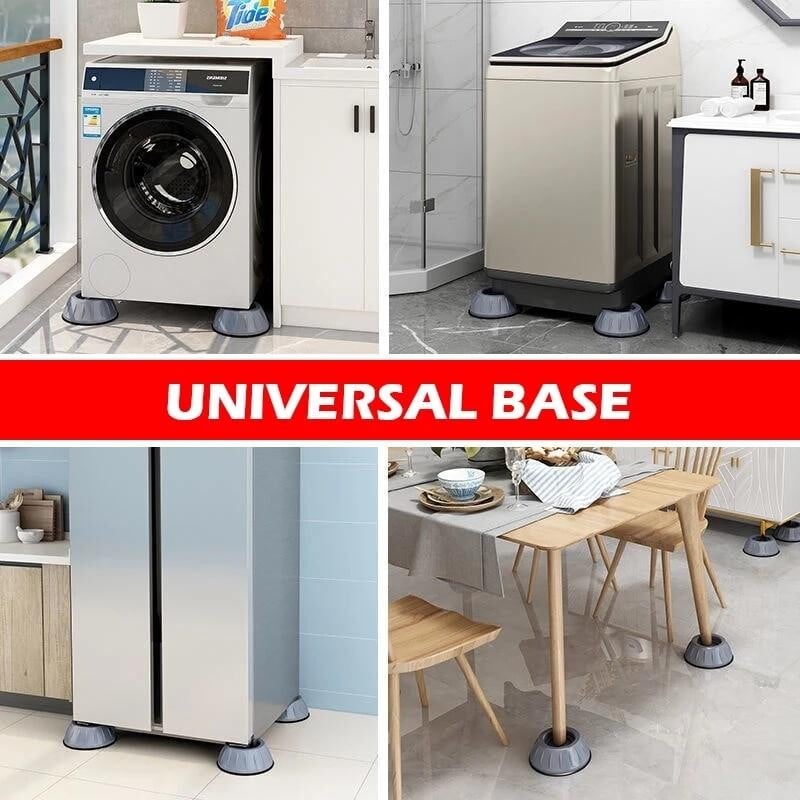 、
Why you need to use it:
Eliminate the noise/vibration of the washing machine.
The bottom of the freezer is increased to a height below 1.6 inches, which makes it easier to clean and eliminates the damp feeling at the bottom.
Do not allow unwanted stains to fall on the floor.
A good grip will not cause any damage or noise to the furniture.
To ensure the safety of the floor.
Long-term protection from pollution
Extend the durability of furniture
There is no trouble cleaning the house.
Floor protection:It has anti-vibration and non-slip rubber pads, with a shock-absorbing suction cup, which can protect the floor by absorbing excessive vibration from the washing machine.
Non-slip mat: Due to the honeycomb traction mode of the cushion, the vibration of the washing machine and dryer is greatly reduced. Therefore, it will not shake due to vibration.
Reduce noise pollution: It can effectively reduce 99% of vibration, prevent noise, and give you a calm and comfortable experience.
Height and level: Putting furniture and electronic equipment a few centimeters away from the floor can effectively prevent moisture from being ventilated and can also be easily cleaned.
Multi-purpose and general size:You can use these cushions anywhere in your home, and it is compatible with any type of furniture, such as washing machines, dryers, refrigerators, tables, sofas, beds, and other furniture because of its high-quality materials and good carrying capacity.
Tips:
The original version can raise the appliance by about 4.2 cm
The New versions A, B, and C have 1, 2, and 3 layers respectively. Can be

 

flexibly disassembled and combined

!
Supports international shipping 
🏬 Website: https://www.anfashionshop.com/
🛍️ An online fashion store.
🧥 Offers a wide range of kitchen items, including tools, tops, bottoms, and accessories.
👗 Specializes in kitchen tools.
💰 Provides discounts and promotions on various products.
📅 Allows customers to create accounts for a personalized shopping experience.
💳 Accepts multiple payment methods for convenience.
🌐 Supports international shipping.
📞 Contact information available for customer inquiries: nouaym@anfashionshop.com